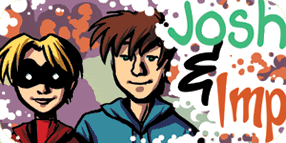 Josh & Imp
is a webcomic by Jon Bernhardt & Diana Nock that takes a simple concept and creates something almost magical about it.
The plot is very simple and easily understandable within the first few panels. Josh is your average Joe teenager. Imp is the teenage sidekick of the brooding, dark vigilante known as Guardian Devil. And they are dating.
From the attempt to use a grappling hook to a hang glider flight to the simple viewing of a play from the distance, Josh and Imp discuss a little bit of everything, just like on a real date. We get a flashback on to how they met, where they want to go, and a little bit of bright hope for the future. All this and a few good supery flashbacks.
Guardian Devil and Imp carry the obvious Batman and Robin paradigm, but it is used to the advantage of the story. It allows us to know Imp even though we don't really, and it works perfectly to help us understand the vagaries of the newly forming relationship.
Josh & Imp
is complete on Diana Nock's website
Jinxville
alongside several other long and short works. But even in its short length,
Josh & Imp
remains one of the most clever superhero stories on the web today. Bravo to all involved!